Rocking Oven Machines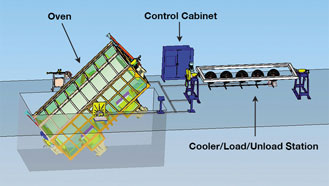 Rocking oven machines are designed for molding long, slender products. These machines can accept a single part up to the maximum mold dimensions, or multiple parts can be mounted on a spindle and run simultaneously. Each machine is provided with one oven station, two cooling stations, and a load/unload station. There is no arm in our rocking oven machine. Your mold or group of molds and framework fits onto the spindle provided on the machine and, in effect, becomes the arm.
Continuous 360° spindle rotation is maintained while rocking action is provided from 45° clockwise to 45° counterclockwise. This machine requires a pit to be installed in the floor for the rocking action to be accommodated. A standard software package provides for multiple rotation steps to ensure uniform product wall thickness. Custom design is available.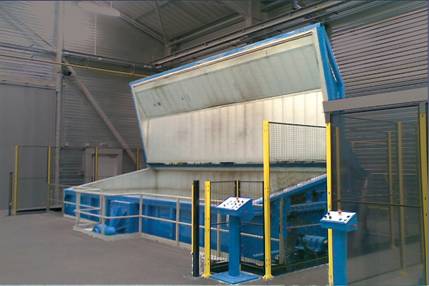 | | |
| --- | --- |
| Models Available: | 5 |
| Mold Diameters: | 60" – 120" (1,520 – 3,050 mm) |
| Mold Lengths: | 166" – 262" (4,216 – 6,654 mm) |
---